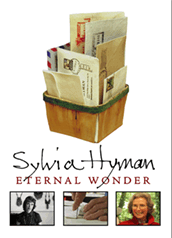 DVD | Color | 70 minutes
Widescreen
Single DVD including Library Circulation rights.
$29.95
Multiple License DVD including Public Performance rights for non-paying audiences.
$149.95

"An engaging profile, this is highly recommended."

(out of 4)
~ Video Librarian
"Sylvia Hyman: Eternal Wonder" traces the evolution of Hyman's career. As a master of "Trompe L'oeil clay," Hyman's sculptures inspire both disorientation and delight when viewers realize that everyday objects that appear to be made of wood, cardboard and paper are actually superbly realized simulations made of clay. Hyman uses porcelain and stoneware to create items like letters, maps, scrolls of sheet music and books that are often grouped in containers such as berry baskets and cardboard and wooden boxes, also made of clay.
And while her artistic achievements are already internationally recognized, "Sylvia Hyman: Eternal Wonder" provides a truly inspirational portrait of both the artist and the person, as we discover an artist at the peak of her powers as she prepares to celebrate her 90th birthday.
This DVD includes the 10 minute version that was created as part of the Frist Center for the Visual Arts exhibit "Sylvia Hyman: Fictional Clay", as well as the 23 minute director's cut that has been shown in film festivals around the world. The DVD also includes a photo portfolio of 431 images tracing all the stages of Hyman's work, from the earliest functional pieces to her more recent sculptures.