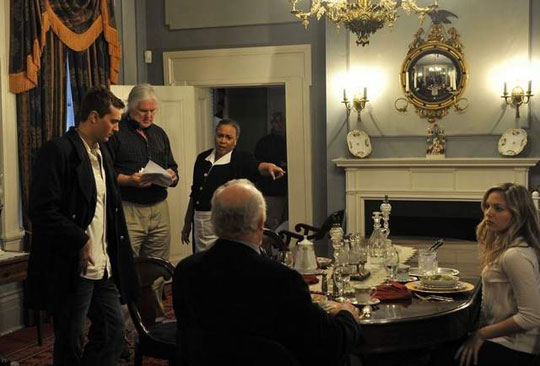 Steve Talley, director Curt Hahn, Jackie Welch, David Dwyer (back to camera) and Lauren Jenkins prepare to rehearse a scene from 'Deadline' at Rippavilla, an antebellum mansion outside Nashville.
RIPPAVILLA TURNS ON CHARM FOR ROLE IN UPCOMING MOVIE
by Vicky Travis, Tennessean
February 7, 2011
SPRING HILL — Casting Rippavilla Plantation as one of the stars of the movie Deadline was a no-brainer for director Curt Hahn.
"We looked at every antebellum mansion in the area," Hahn said. "Rippavilla was perfect and great to work with."
The historic home helps tell a story of redemption and justice in Deadline, a movie by Nashville-based Film House that is being shot completely in Tennessee.
Rippavilla is no stranger to show business. Plantation director Pam Perdue said Film House has used the mansion as a backdrop for other projects, videos and training films.
All in a day's work
About 50 members of the cast and crew worked till late in the night last Tuesday to finish about six and a half pages of script inside the home on Columbia Pike in Spring Hill. The crew had just two days to get all the shots needed there, and the weather didn't make the job any easier.
"We're constantly rejiggering and revising," said Hahn, who's quite used to Tennessee's unpredictable weather. He's lived in Nashville for 35 years.
Some of that rejiggering included rewriting scenes that were set outside Rippavilla to be shot inside because of the incessant rain last Tuesday.
"We shoot in the rain all the time, but for continuity we couldn't," said second assistant director Eric Williams. Filming was outside Rippavilla the day before, a dry day, so for continuity's sake, it just wouldn't work to shoot more outside on rainy Tuesday.
All of the shooting for this independent film was to be done in 18 days over a series of weeks and should finish next week. Other scenes have been shot in The Tennessean newsroom; a Santa Fe, Tenn., church; and in the Giles County Courthouse, which Hahn calls the most photogenic courtroom he's ever seen with its balconies and beautiful woodwork.
In the film, Rippavilla is the home of the wealthiest people in a fictional Alabama county, where a grown daughter learns about the decades-old murder of her beloved nanny's son. She persuades a reporter, played by Steve Talley, to investigate the cold case.
Rippavilla's front dining room was the setting for one of the scenes being shot last Tuesday in which the daughter, played by Lauren Jenkins, and the reporter have tense dinner conversation with the patriarch of the home, played by David Dwyer, who's not thrilled with the idea of the investigation.
"He's a wonderfully bad, but charming character," said Dwyer, an actor who lives in Maryville, Tenn. "But he finds redemption in the end."
Talley's character, Matt Harper, is a young reporter at the fictional Nashville Times, and Eric Roberts plays grizzled reporter and mentoring figure Ronnie Bullock.
The movie was inspired by the real-life story of Mark Ethridge, who was a reporter for the Charlotte Observer, and adapted from his book Grievances.
Local talent 'rocks'
Rippavilla isn't the only local star in the movie. Director Hahn said he has been blown away by the talent in Tennessee. Only the two lead roles were cast in Hollywood; the rest were cast in Tennessee. "We found so many fantastic actors in Tennessee," he said.
Actress Maisha Dyson, a Brentwood resident, plays Vanessa Brown, the girlfriend who witnessed the murder. "She flat out rocks," Hahn said. After her big scene recounting the night of the years-old murder, Hahn said, "everyone on the crew was wrung out like a dish rag."
"It's so well written and such a story," Dyson said. "It makes acting a part easy. It's every actor's dream."
Dyson moved to Brentwood from Los Angeles four years ago with her husband, who had taken a job in Cool Springs. And they have a 3-year-old. Besides the baby, one of the best things about leaving L.A. for here — the lack of traffic. "There's just no stress," she said with a laugh.
Another Nashville-based actor, Jessejames Locorriere, plays a not-so-nice role. His character, donned in camouflage and driving a '67 pickup, shouts racist slurs outside an African-American church, a scene which was shot in Santa Fe, Tenn.
"It was hard to approach it," he said. "Who does this? Who still thinks this way?" But in the end, he had to act. Locorriere, 40, has done a lot of theater work at Tennessee Repertory and at other Nashville theaters. His focus now is on film and fortunately, or unfortunately, often gets cast as the bad guy. "I've got that look," he said laughing.
Deadline is expected to premiere in Nashville in February 2012 and be released nationwide next April.
Contact Vicky Travis at [email protected].
Copyright (c) The Tennessean. All rights reserved. Reproduced with the permission of Gannett Co., Inc.